As an industry-leading provider of sustainable packaging solutions, Orora is pleased to announce that they are now the exclusive distributor of Flexi-Hex products in North America.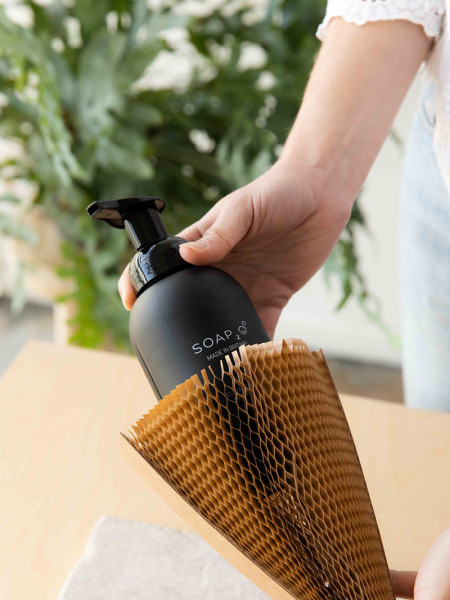 The Flexi-Hex® sleeve is a patented, honeycomb design made from paper that helps protect products in transit. Renowned for its strength, the hexagonal cell structure not only provides an incredible layer of protection around fragile products, it also creates an adaptable sleeve that has many applications across a broad range of industries.
"We are excited to bring Flexi-Hex's patented, sustainable solutions to the North American market. Flexi-Hex is a great fiber-based alternative to plastic and foam that has extraordinary protective properties," says Chris Bradley, Chief Marketing, Design & Sustainability Officer of Orora Packaging Solutions.
"Orora's extensive distribution capabilities in North America and their focus on sustainability made them the perfect choice as a go-to-market partner. Our design teams are already collaborating on a range of custom solutions for Orora customers," says Sam Boex, co-founder of Flexi-Hex Ltd.
Orora is stocking the full range of 100% plastic-free Flexi-Hex sleeves across its distribution network and helping progressive companies make the transition away from plastic-based solutions to more sustainable solutions like Flexi-Hex. The simple product line-up consists of both Flexi-Hex and Flexi-Hex Air sleeves. The core range of sleeves (Mini, LITE, MID and XL) are made from recycled paper and provide a robust solution for transporting items across many industries from beverage to homeware, tools to tiles, candles to kitchenware and all shapes and sizes of surfboards. Also available in four sizes, the Air Sleeve is made from recycled tissue paper and perfect for sending smaller, fragile items such as cosmetics, electronics, CBD bottles and glassware.
This partnership is a testament to the shared commitment of Orora and Flexi-Hex to reducing the environmental impact of plastic while driving positive change throughout the packaging industry.
About Orora Packaging Solutions: www.OroraPackagingSolutions.com
Orora Packaging Solutions is part of the ASX-listed Orora Limited Group, a leading manufacturer and distributor of sustainable, innovative packaging solutions to customers across the world. From custom packaging design to corrugated manufacturing and equipment & automation, Orora works with brands to create packaging solutions that are renewable, recyclable and reusable. Orora specializes in developing these solutions for customers in the food, beverage, technology, healthcare, automotive, industrial and retail markets.
About Flexi-Hex Ltd: www.Flexi-Hex.com
Flex-Hex Ltd. is a B Corp Certified manufacturer of their patented innovative, sustainable, plastic-free Flexi-Hex® sleeves, proudly on a mission to protect customers' products and the planet.