Orora has received a major customer accolade, winning the prestigious Coca-Cola Amatil (Amatil) 2017 Partner of the Year Award.
Hear from Coca-Cola Amatil on why Orora was awarded Partner of the Year (1:05)

The top honour for an Amatil supplier, the award recognises excellence in all aspects of the supplier partnership from the fundamentals of a supply relationship, through to best practice engagement and a commitment to shared improvement and innovation.
In particular, Orora was acknowledged for its unwavering commitment to the Amatil business. The Orora team was described as being relentless in their efforts to bring new ideas to the table, while making investments in technology and capabilities that deliver long term value to Amatil.
Speaking after the presentation in Sydney, Simon Bromell, Group General Manager, Orora Beverage said the Award reflected the hard work and dedication of the entire Orora team.
"This is a significant achievement for our business with one of our most important Australasian customers. It reflects the outstanding work of people across Orora, including our teams in cans, glass, closures, the decoration centre of excellence (DCE) and Fibre. We take great pride being a customer-led business and the Award demonstrates that we are delivering on this," Simon said.
Sarah Cook, Group Chief Procurement Officer at Amatil reinforced the importance of the Awards.
"The Partner for Growth Awards recognise suppliers who genuinely care about what they do and how they do it. For us, that means suppliers who look to turn transactional relationships into genuine business partnerships. Together we've delivered some great outcomes in innovation, sustainability, product development and customer service," Sarah said.
Orora was initially shortlisted as a finalist in four categories as part of the Amatil Partner for Growth Awards - Innovation, Quality, Supply Continuity and Customer Service. The shortlisting resulted from the sustained level of customer service that Orora is providing, as well as the ongoing investments being made to enhance service delivery.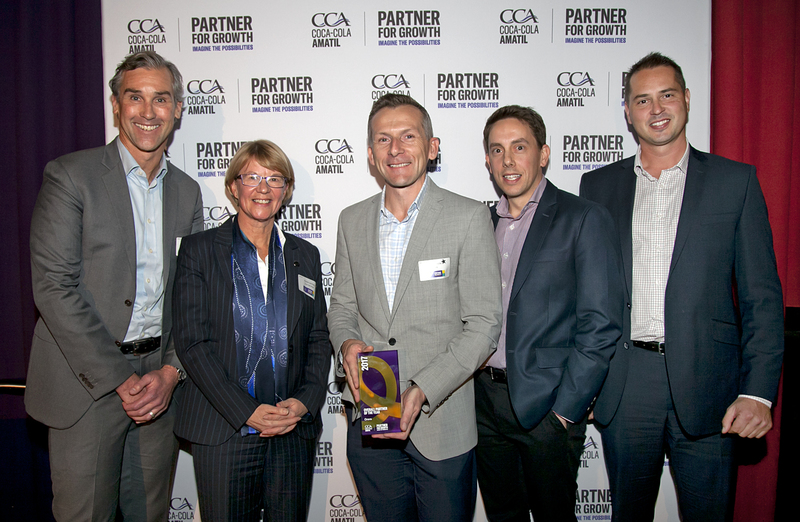 From L-R: Simon Bromell, Alison Watkins (Group Managing Director, Coca-Cola Amatil), Chris Smith, Adam Johnson, Kane Chandler.
Find out more about Orora products and services.