Orora is reducing its environmental impact with new Eco Targets
Consistent with its focus on sustainability and its Planet pillar, Orora launched a new set of Eco Targets in 2020 to run until 2024. The Eco Targets are designed to address Orora's obligations under the United Nation's Global Compact (UNGC) to support a precautionary approach to environmental challenges, undertake initiatives to promote greater environmental responsibility and encourage the adoption of environmentally friendly technologies.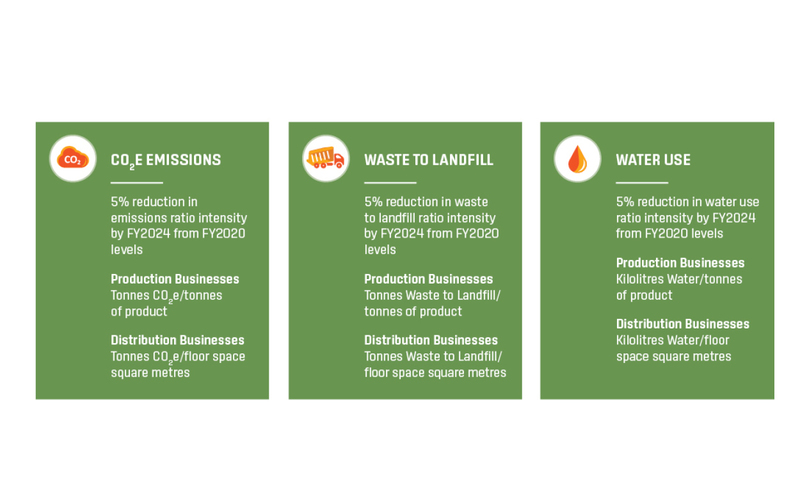 Orora's Eco Targets are aimed at addressing the main environmental impacts the company has through reducing CO2e (greenhouse gas emissions), water use and waste to landfill. The company is aiming for a 5% reduction on a ratio basis across each of these areas.
The Eco Targets are measured as ratios against production related metrics. Orora has adopted this approach as it aligns to changes in stakeholder expectations for how companies report on environmental performance. This also ensures that the metrics for Orora's Eco Targets are focused on the specific attributes of each of the business divisions, giving them greater scope for effective management. The Eco Target metrics reflect the primary activity of each of the business units. These are divided into Production of packaging, which measures against tonnes produced, and separately, the Distribution of packaging, which adheres to floor space square metres.
Orora's Eco Targets are part of its broader program towards improving its environmental performance including its focus on renewable energy and energy efficiency. For further information, please see Orora's FY2020 Annual Report.